Canada is becoming a prime location for data centers offering colocation services, thanks to its cold climate, high connectivity, clean hydroelectricity, competitive energy prices and predictable political landscape.
Many major players in the data center sector have a footprint in Canada, particularly in the province of Quebec. Microsoft recently bought land near Quebec City. Google is already present in Quebec and plans to build a massive data center on a sixty hectares lot, a 735 million Canadian dollars investment. DigitalBridge also has a strong presence in Quebec, particularly in Montreal. France based OVHcloud also has a colocation facility in the town of Beauharnois, located in a former aluminum smelter. According to a recent Agence France-Presse article, there are 50 data centers in Quebec, in 2019, there were 39 of them.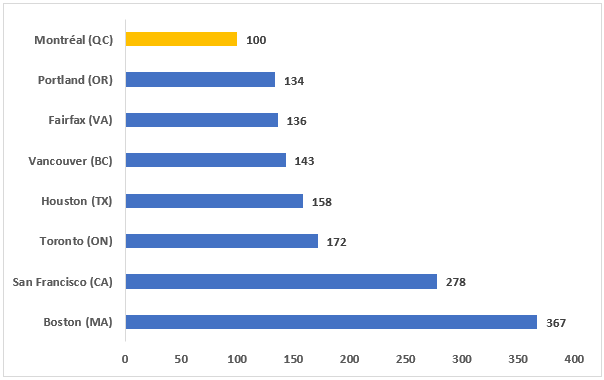 These are the reasons major companies are choosing Canada and Québec to install their digital infrastructure:
Cold climate: Temperatures in Canada can get very cold in the winter, and they remain reasonable the rest of the year. Data centers produce heat, and a cold climate is ideal: the facility needs less cooling. Cold air from outside can even be used to cool down the facility.
Connectivity: Montreal has an advanced telecommunications network, and the local expertise can help to reduce cost and time to deploy dark fiber.
Clean energy: hydroelectricity represents 99% of the grid in Quebec. A data center can significantly reduce their carbon footprint and meet their emissions reduction targets.
Predictability: Hydro-Québec customers enjoy a solid history of rate stability, with the lowest rise in price of any type of energy. The average annual rate increase for the last 20 years is 1.4%. The province also has a reliable grid, political stability and strong data sovereignty laws.
Qualified workforce: Canada has a very qualified workforce of technicians, electricians and engineers with rich project management experience in the data center field.
Enovum Data Centers builds and manages mission-critical digital infrastructure, powered by renewable hydroelectricity, in its Montreal flagship facility. From single cabinets to hyperscalers, Enovum is vertically integrated to deliver speed, connectivity options and quality with a robust infrastructure. Enovum is transparent: no cross-connect fees and live monitoring of your environment within your space. Enovum has access to all the major carriers locally with multiple redundant dark fiber paths and a 100% carrier-neutral location.